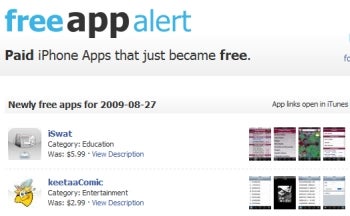 Iphone Apps on the Cheap
With so many iPhone apps there its inevitable to spend loads of money 99cent and $1.99 at a time. So how are you going to keep yourself from going broke doing this? Well one solution is to use Free App Alert.
As the famous saying goes, "Necessity is the Mother of Invention" and Free App Alert is no exception
I was planning a trip to San Francisco one day and by total chance stumbled upon an iPhone app city guide in the app store. The app was usually $15 like the other city guides that the company produced. They were running a special promotion though and the app was free for a few days! That app is back to $15 now but I got it for free.
Free App Alert does exactly what the name implies. You enter the name of the app and wait for a notification of a price drop or the app going free. All wrapped in a slick User Interface
One comment on "Iphone Apps on the Cheap"
I just want to say-there is in fact an Iphone app (free) which does exactly this, but its on the Iphone or Itouch so checking for newly "freed" apps is much easier. the name of the app is pandoras box.